Fun Family Break Recommendations
Pack a pair of sandals, wear that summer dress, throw some beach toys into the boot of your car, and get ready to enjoy your staycation in style!
With birds chirping, flowers blooming, and the sun sparkling in all its glory, everyone's favourite time of the year is finally here! And while we may all be homebound this year, do not be fooled into thinking that a family picnic with sandwiches and lemonade in the backyard is the only way to spend your summer with the kids.
From lush gardens to sandy beaches, Malahide and its neighbouring localities are filled with sensational spots that will certainly make the summer of 2021 memorable for the entire family! Grand Hotel Malahide is thrilled to present a two-day itinerary packed with fantastic places to visit in and around this lovely village.
DAY 1
10:00AM | Coast Restaurant
Kick off the day with a relaxed breakfast at Coast Restaurant. Its wideset windows overlook the magnificence of the Malahide Estuary, offering a stunning view of the gorgeous locality! From a classic full Irish breakfast to American style breakfast pancakes, our menu promises to be a hit with one and all.
11:30AM | Malahide Beach
Do you want to build a sandcastle? If so, look no further! With its sprawling stretch of sand and soothing blue waters, Malahide Beach is perfect for cool games and leisurely walks. Popular amongst tourists and locals alike, Malahide Beach boasts of a mix of dunes, a footpath, and a promenade within its bounds. Offering a picturesque view of Lambay Island, Howth, and Ireland's Eye, it has spots suited to both picnicking and swimming.
If your beach time shenanigans have left your tummies rumbling, grab some lunch at one of Malahide's incredible eateries. As the gourmet capital of Dublin, the village has an abundance of restaurants and cafes with scrumptious menus.
3:00PM | Malahide Castle and Gardens
Nestled at the very heart of the village, this idyllic retreat witnesses a seamless mergence between nature and culture. Prepare yourself for a captivating voyage down the spirals of time and relive your childhood memories when the Famous Five were THE coolest people you ever knew! Revisit the home of the Talbot family with the little explorers and revel in the sheer beauty and majesty of Malahide Castle. Set on 260 acres of parkland, is it home to a variety of exotic plant species.
If you wish to take a restful woodland walk replete with scenic settings ideally suited for family photos, check out the Walled Garden and West Lawn. The kids are sure to be enthralled by the Fairy Trail, an enchanting pathway speckled with sculptures and fairy houses. The Butterfly House, another major attraction, will send the kids' hearts fluttering, whilst inspiring both budding and experienced lepidopterists. The castle playground with its adventure trail, rope net, swing sets and jungle gyms that are guaranteed to keep the little ones busy!
6:30PM | Matt Ryan Bar
Who doesn't love a delectable meal after a day filled with fun? The Matt Ryan Bar's dinner menu has a wide assortment of dishes from pizza, steak, and fresh local seafood to homemade desserts. Relish our tantalizing cocktails as you relax and spend quality time with your family. A dedicated children's menu with succulent delicacies like the chef's homemade meatballs and pasta, and desserts like chocolate mousse are sure to spread smiles all round! The bar's sumptuous meals and inviting ambience would certainly fill your stomachs as well as your hearts.
DAY 2
Gear yourself up for another day of awesome escapades after a fulfilling breakfast at the Coast Restaurant. Pack your bags and be prepared for yet another remarkable journey!
11:00AM | Casino Model Railway Museum

Image Credit: Casino Model Railway
All aboard and get ready for an extraordinary experience! Housed in the restored Casino cottage, the Model Railway Museum displays the superb workmanship of Cyril Fry. Presenting an iconic collection of miniature railway engines, wagons, and carriages, this museum shall leave the kids endlessly intrigued. With an array of displays providing detailed information about Irish rolling stock and the history of our railway system, this museum makes learning interactive and enjoyable!
1:00PM | Ardgillan Castle
Image Credit: AVEA
Are you hungry for a new quest? Drive over to Balbriggan and discover the wonders of Ardgillan Castle. Delve into the fascinating history of the Taylor family and be sure to explore the beautiful country house with its castellated embellishments. Delight in the glorious view offered by Ardgillan Park, where verdant gardens are set against vast expanses of the sea. The little ones are sure to be overjoyed as they discover yet another magical fairy tree trail, which is sure to leave them mesmerised! A large and colourful playground with its stunning castle-themed structures guarantees to spread joy and cheer. If you wish to take a little break and indulge in a little titbit with a cuppa, the Brambles Rambler with its selection of teas, fresh pastries, cookies, scones, panini, and sandwiches is your go-to café on wheels.
3.00PM | Skerries Mills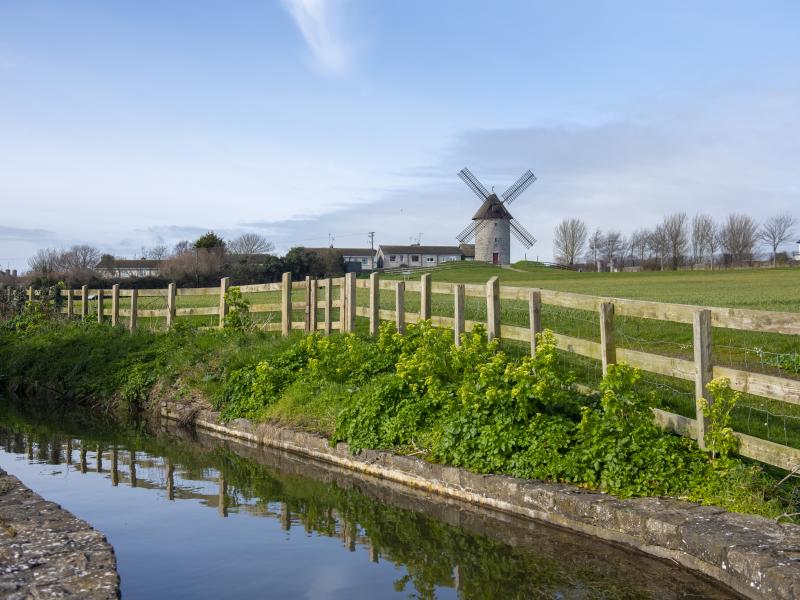 Image Credit: Fingal.ie
There is no better way to end your little family holiday than to take a relaxing walk around Skerries Mills, which has plenty of open space for outdoor games. A hidden gem in North Dublin, this unique collection of two windmills and a watermill is one of Ireland's leading industrial heritage centres. If the kids wish to make a few new friends, be sure to take a walk to Mill Pond to give the ducks and swans a tasty treat. Enjoy a quick cuppa with a little tidbit from the in-house café before taking driving back to Malahide for a lovely family dinner.
If you fancy an escape from it all, book a stay at Grand Hotel Malahide. Our spacious family and interconnecting bedrooms will assure a very enjoyable and comfortable break. We have a range of hygiene and health measures to ensure your visit is perfectly safe. As a Failte Ireland Safety Charter property, we assure you that we are committed to keeping our premises sanitised in accordance with the latest measures in place. So, what are you waiting for? Hop into your car right away!